I knew it would. There was no way J.K. Rowling would do that to the fans and I love the fact the proceeds will go to charity.
There is two versions one the standrad hardcover version and the amazing collector's replica edition which will set you back a $100.00.
You can
PRE-ORDER
it.
J.K. Rowling Children's Charity to Publish `Beedle the Bard'
Bloomberg article
July 31 (Bloomberg) -- J.K. Rowling's ``The Tales of Beedle the Bard,'' a handwritten book of fairy tales that Amazon.com Inc. bought for 1.95 million pounds ($3.86 million) in December, will be published to raise an estimated 4 million pounds for deprived European children, an English charity said today.
The Children's High Level Group, a charity co-founded by Rowling, said in an e-mailed statement that proceeds from the exclusive agreement with Amazon and publishers Bloomsbury Plc and Scholastic Corp. will aid the more than one million European children and teenagers growing up in ``large residential institutions,'' often without adequate food and shelter.
``The Tales of Beedle the Bard,'' a book of five wizardry fairy tales mentioned in ``Harry Potter and the Deathly Hallows,'' is one of seven copies Rowling handmade after finishing the Potter series.
The Children's High Level Group said it plans to publish three editions of the book, all in English, to be printed and distributed by Bloomsbury, Scholastic and Amazon.
The Bloomsbury and Scholastic editions, priced at 6.99 pounds and $12.99, respectively, will include an introduction by Rowling and commentary on each fairy tale from Albus Dumbledore, the beloved headmaster of Hogwarts School of Witchcraft and Wizardry, the statement said.
Amazon plans to produce as many as 100,000 copies of a collector's edition that will mimic the look and feel of the handwritten original, the release said. It will be priced at 50 pounds and $100. All editions go on sale on Dec. 4.
``The new edition will include the Tales themselves, translated from the original runes by Hermione Granger, and with illustrations by me, but also notes by Professor Albus Dumbledore, which appear by generous permission of the Hogwarts Headmasters' Archive,'' Rowling said in the statement from the charity, which she co-founded with Emma Nicholson, a member of the U.K. House of Lords.
I am so psyched if you Harry Potter fans don't already know. The Tales of Beedle the Bard, will go on sale only on Amazon on December 4, 2008.
Alright it's not Faith the Vampire Slayer but at least Joss will have a new series and Eliza will be back on tv again and I am hoping...
from the dear-fox-please-don't-suck dept.
"Joss Whedon of 'Buffy' and 'Firefly' fame has signed on to do another TV series on Fox starring Eliza Dushku (Faith from 'Buffy'). The series is going to be called Dollhouse, and the story surrounds a group of people 'programmed' to do missions out of a sort of high-tech dorm. '[The series] follows a top-secret world of people programmed with different personalities, abilities and memories depending on their mission. After each assignment -- which can be physical, romantic or even illegal -- the characters have their memories wiped clean, and are sent back to a lab (dubbed the "Dollhouse"). [The] show centers on Dushku's character, Echo, as she slowly begins to develop some self-awareness, which impacts her missions.'"
Dollhouse has it's own fan website
http://www.dollverse.com/
Joss Whedon Back on TV
Current Mood:

hopeful

Hot news for 'Buffy' fans -- Giles will be starring in his own TV movie for the BBC. The word from San Diego is that a ninety-minute film is in the works. "Ripper" tells the story of Rupert Giles back in London after he leaves the craziness of Sunnydale and winds up getting sucked back into the craziness of Watcherdom.

Some other tidbits from the panel: he knows where Season 8 (aka the comic) is going to end, and he's got a lot of plans for Season 9 after the fall of Wolfram and Hart. He is delighting in the complete freedom of FX budget that the comic series will bring. He also says that, in the aftermath of W&H's fall and the associated release of demons on the world, "Wesley? He's dead, so obviously he's going to be the star." He might be joking, but then, this is Joss, so he might not be. Also Ilyria was the most fun character to write, and he knew as soon as Amy Acker did the Shakespeare read-through that he was going to have to kill off her character to make Ilyria happen.

He may be writing a ballet. He'd like to follow in JMS' footsteps and do a direct-to-DVD film or two, possibly in the Firefly/Serenity 'verse. He's working with Drew Goddard on a horror flick called "The Cabin in the Woods."

Cool.
'Ripper' Coming to a TV Screen Near ... London?
Current Mood:

excited
Who turns 18 today which is a good thing because it
makes me feel a little less pervy I think he's cute :P
HAPPY BIRTHDAY DANIEL RADCLIFFE!
Life's magic as Daniel Radcliffe turns 18
Harry Potter star Daniel Radcliffe gains access to a reported $10 million fortune as he turned 18 yesterday, but he insists the money won't cast a spell on him.
To the disappointment of gossip columnists around the world, the young actor says he has no plans to fritter his cash away on fast cars, drink and celebrity parties.
"I don't plan to be one of those people who, as soon as they turn 18, suddenly buy themselves a massive sports car collection or something similar," he said. "I don't think I'll be particularly extravagant. The things I like buying are things that cost about £10— books and CDs and DVDs."
At 18, Radcliffe will be able to gamble in a casino, buy a drink in a pub or see the horror film 'Hostel: Part II', currently six places below his number one movie on the UK box office chart.
Details of how he'll mark his landmark birthday are under wraps. His agent and publicist had no comment on his plans.
"I'll definitely have some sort of party," he said in an interview. "Hopefully none of you will be reading about it."
Radcliffe's earnings from the first five Potter films have been held in a trust fund which he has not been able to touch.
Despite his growing fame and riches, the actor says he is keeping his feet firmly on the ground.
"People are always looking to say 'kid star goes off the rails'," he said. "But I try very hard not to go that way because it would be too easy for them."
His latest outing as the boy wizard in 'Harry Potter and the Order of the Phoenix' is breaking records on both sides of the Atlantic and he will reprise the role in the last two films.
The Londoner has filmed a TV movie called 'My Boy Jack', about author Rudyard Kipling and his son, due for release later this year. He will also appear in 'December Boys', an Australian film about four boys who escape an orphanage.
Meanwhile, he is braced for even closer media scrutiny now that he's legally an adult: "I just think I'm going to be more sort of fair game," he said. reuters
Current Mood:

amused


In an interview with The Telegram, Harry Potter Producer David Heyman reminisced about the early days of the film franchise, when a number of directors were keen on turning Harry, Hermione, and Ron into Americans and changing Hogwarts to a Hollywood high school. But Heyman, who optioned the first book in 1997, insisted that the film stay true to the book's English identity, and the payoff has been huge.

"Hollywood is risk-adverse and what makes them feel secure is to have an American in the lead," Heyman said. "This was before Harry Potter was the big phenomenon that he became, so they were entitled to that view. But for me, it would have destroyed the stories.

"For me, one of the things I responded to in these books is their Englishness. The story is very English. It has cultural specificity, but it has thematic and emotional universality."

ARTICLE: Harry almost went Hollywood

Wizard not the same with a Yankee doodle accent

CanWest News Service—London

Can you imagine the world of Harry Potter being relocated to a trendy Hollywood high school?

Don't laugh. In the days when the J.K. Rowling books were becoming international best-sellers and Hollywood was starting to see them as a potential cash cow, one Tinseltown filmmaker said he was ready to take on the project — but only if the Hogwarts School Of Witchcraft and Wizardry acquired an American identity and became a reworking of Beverly Hills 90210.

Another filmmaker reluctantly conceded that if the first film, Harry Potter And The Philosopher's Stone, was to be made, it would probably have to retain its English setting — but in order to make the movie palatable, it would be necessary to turn Harry into an American.

And there was a further proposal — that Harry's two friends, Hermione and Ron, should also be American because kids in the U.S. needed home-grown heroes who didn't have funny accents.

British producer David Heyman winces at these memories, but he doubts that any such proposal could have made it to first base.

To begin with, Rowling had initially been reluctant to make a movie deal of any kind because she didn't trust Hollywood. Secondly, Heyman was there to protect her interests — to make sure that the movies would retain their British sensibility, use a British cast and be shot in the U.K.

In a sense, Heyman has been a keeper of the grail for the reclusive author.

That was how he won the rights to the books in the first place — by pledging the movies would be true to their originals. But 10 years ago, he had no concept of Harry's potential.

"I optioned the book in 1997," he remembers. "What happened was that there was an article in a book publishing magazine, and a woman in my office read the article, called up the book's agent, and a copy of The Philosopher's Stone came in. It lay on the bottom shelf — our priority low point place — for several weeks."

Heyman's office was constantly seeking out potential film material from the piles of new books.

But it wasn't until his secretary became so fed up with the "rubbish" she had been reading that she decided to take the Potter book home. At the firm's Monday meeting, she reported that she had enjoyed this novel about a young boy in wizard school.

"I thought — what a great idea," Heyman says now. "I read it and thought — this is fantastic. But I had no idea then that it would become the phenomenon it has become."

Still, once he had optioned the film rights, he knew he had a responsibility to safeguard the interests of Rowling and the books.

He understands why there were proposals for an Americanized Harry Potter, pointing out that the American film industry tends to be insular-looking in such matters.

Some Hollywood pundits still deplore the fact that James Bond is not portrayed by American stars; more recently, the estate of British author C.S. Lewis blocked efforts to give the film versions of the Narnia Chronicles an American setting.

Currently, there is controversy over plans to star Tom Cruise in a movie about the Battle of Britain.

"Hollywood is risk-adverse and what makes them feel secure is to have an American in the lead," Heyman says. He's prepared to forgive industry colleagues for proposing an Americanized Harry Potter. "This was before Harry Potter was the big phenomenon that he became, so they were entitled to that view. But for me, it would have destroyed the stories.

"For me, one of the things I responded to in these books is their Englishness. The story is very English. It has cultural specificity, but it has thematic and emotional universality."

"The stories and themes in the books are relatable.

"We've all been through having our first crush, having our first kiss, suffering from confusion and social isolation, being embraced by friends and ostracized by them, having teachers you like and ones you don't like — all these are moments that have been experienced by British kids and also by North American kids and people the world over."

Unlike other notable film franchises, there is a continuing consensus among critics that the Potter films have continued to maintain their high standards — Newsweek Magazine suggested last week that they keep getting better. Now, with only two more Potter films left to make, Heyman is cautiously optimistic these standards will be maintained.

"So far, so good," he says.

"What I'm proud of is that I feel the films are continuing to develop and we're not just resting on any laurels. We're not just churning them out. I'm proud of the films — each one. I think the actors are developing. I think the kids in this film are better than in any previous films. I'm excited about the next two. We're not there yet, but I'm excited about beginning to see light at the end of the tunnel — which is both an exciting thing and at the same time really scary and a little sad. Because there will come a point when it's all over."
Why Harry isn't American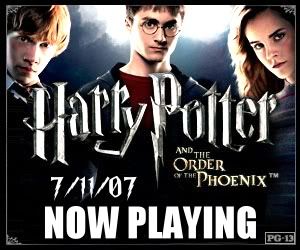 Current Mood:

happy
Earlier yesterday, Daniel Radcliffe, Emma Watson, and Rupert Grint made imprints of their hands, feet, and wands in fresh concrete in the forecourt of Grauman's Chinese Theatre here in Los Angeles.
Current Mood:

apathetic
LONDON - Some actors might balk at being cast as an evil witch. Not Helena Bonham Carter.
(
FULL ARTICLE
Collapse
)
Mon Jul 9, 2:46 PM ET
Current Mood:

accomplished
The same 11 clips posted yesterday, which were dubbed in German, have now been released in their original English, which you can see courtesy of IESB. In addition to the clips, the site has posted up interviews with the stars of the movie, as well as a behind-the-scenes look at Harry Potter and the Order of the Phoenix.
You can watch all of the videos at IESB though there is a likelihood of the site going slowly because of the heavy traffic, so please be patient.
http://www.iesb.net/index.php?option=com_content&task=view&id=2776&Itemid=99
11 new OOTP clips in English


Yates told MTV: "It was Kreacher, actually. We took Kreacher out, and Jo said, 'Listen, guys, you don't have to put Kreacher back, but I'm just telling you, if you want to kind of keep a thread going for six and seven, you might want Kreacher to come back.' She basically told us Kreacher plays a role in Seven, in a sense. She hinted. We thought about it for five seconds, and he came back."

So now, back to theorizing: what role will Kreacher play in Deathly Hallows?
In an interview with MTV News on Sunday, Order of the Phoenix Director David Yates confirmed what we surmised on Friday: Kreacher was the character who almost got the axe in the fifth film.